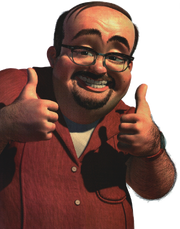 Al is the secondary antagonist of 
Toy Story 2
; the main antagonist being 
his boss
.
His goal is to take to toys to Japan. he is first seen on an al's toy barn commercial. woody tells rex to turn the tv off, but rex coudn't. then hamm turned it off. he is seen again in a yard sale where woody was rescuing wheezy. He finds woody, but andy's mom takes woody back from him in a toll box. al decides to go home, but he found a skateboard. so he pushed it to nowhere, and took woody fast, then drove off as fast as he can.
he is seen again on the phone with woody in a glass case. he tells woody that he is going to make a big buck and walks out of the apartment laughing to make another al's toy barn commercial.
after woody and jessie argue, al enters the room to make a photo of the roundup gang. he gets woody out of a glass case, until woody's arm comes off. he tells the cleaner to fix woody then he goes on his couch to sleep.
woodycomes out of his glass case quietly to get his arm back, until he steps on a cheese puff which al droped. bullesye helps woody to get his arm back. woody tries to get his arm out of his pocket but his TV turns on. he wakes up and sees woody on the floor. then he takes woody's arm out to an unkown place.
he hears a doorbell ring to reveal the cleaner. after woody is fixed, he charges into the cleaners way and says woody is just like new.
he is seen again taking photos of the roundup gang. then he goes on his phone calling mr konishi. he is seen again in his toy barn printing a picture of woody. then he becomes energetic when the roundup gang our going to japan soon. he is seen again after woody comforts jessie talking on the phone about dollars. he reappears when he puts the roundup gang in his green case. getting ready to go to the airport. then he goes into his car.
he is arguing with a ticket agent that he is not counting on it. the ticket agent puts the green case on the conveyer belt.
he is last seen when he is doing his commercial sadly, then he cries because the roundup gang didn't go to japan.
Ad blocker interference detected!
Wikia is a free-to-use site that makes money from advertising. We have a modified experience for viewers using ad blockers

Wikia is not accessible if you've made further modifications. Remove the custom ad blocker rule(s) and the page will load as expected.