Thomas Jeffrey "Tom" Hanks
(born July 9, 1956) is an American actor as the voice of the Toy Cowboy name
Woody
from
Toy Story
 in 1995 and he Plays Different Characters in Different films and TV Series when he in.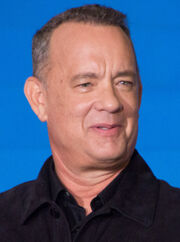 Significant Roles
Edit
Rick Martin in The Love Boat (1980)
Gordon in Taxi (1982)
Dwayne Twitchell in Happy Days (1982)
Allen Bauer in Splash (1984)
Richard Harlan Drew in The Man with One Red Shoe (1985)
Walter Fielding Jr in The Money Pit (1986)
Pep Streebeck in Dragnet (1987)
Josh Baskin in Big (1988)
Scott Turner in Turner and Hooch (1989)
Jimmy Dugan in A League of Dugan (1992)
Forrest in Forrest Gump (1994)
James "Jim" Lovell in Apollo 13 (1995)
The Voice of Woody in Toy Story (1995)
Mr. White in That Thing You do! (1996)
Captain Miller in Saving Private Ryan (1998)
The Voice of Woody in Toy Story 2 (1999)
Paul Edgecomb in The Green Mile (1999)
Chuck Noland in Cast Away (2000)
Carl Hanratty in Catch Me If You Can (2002)
Viktor Navorski in The Teminal (2004)
Robert Langdon in The Da Vinci Code (2006)
Charlie Wilson in Charlie Wilson's War (2007)
Robert Langdon in Angels and Demons (2009)
The Voice of Woody in Toy Story 3 (2010​)  
It is unknown if he will reprise his role as woody for toy story 4, due to his voice being old (see this video). an other actor might replace him, and get woodys voice.

02:48

Tom Hanks talks about being the voice of Woody in the Toy Story films - The Graham Norton Show - BBC

 
Ad blocker interference detected!
Wikia is a free-to-use site that makes money from advertising. We have a modified experience for viewers using ad blockers

Wikia is not accessible if you've made further modifications. Remove the custom ad blocker rule(s) and the page will load as expected.