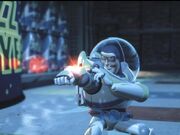 Utlity Belt Buzz A.K.A 
Buzz 2
is a former quaternary antagonist and minor character in 
Toy Story 2
. He is like every other Buzz manufactured, But acts like Buzz's old self in the first Toy Story film. He replaces 
Buzz
 to lead the toys to find
Woody
.
While searching through Al's Toy Barn, Andy's Buzz discovers an aisle full of new Buzz Lightyear action figures. He sees "NEW UTILITY BELT!" on the display stand and climbs up to encounter this Buzz Lightyear action figure. Real Buzz foolishly attempts to steal a new utility belt from the Buzz on the display stand. Little did he know that this Buzz was actually awake. The Utility Belt Buzz suddenly springs to life and mistaken Buzz for a rogue space ranger.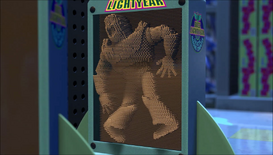 Utility Belt Buzz tries to apprehend Andy's Buzz and gets into scuffle. Utility Belt Buzz then manages to overpower and threw Andy's Buzz into a pin art model knocking him unconscious temporarily.
Utility Belt Buzz then ties Andy's Buzz up on a cardboard platform. Andy's Buzz tries to convince Utility Belt Buzz that he is a toy, but he takes no attention. He then proceeds to shove Andy's Buzz into a cardboard packaging box, and crammed him up on the shelf with the other Buzz Lightyears. Utility Belt Buzz then told Andy's Buzz from the outside that the box will hold him until he faced "court martial". Utility Belt Buzz doesn't realized that he literally just repackaged Andy's Buzz and put him up for sale.