Sheriff Woody is a Cowboy Doll, and is the Star of the Fictional 50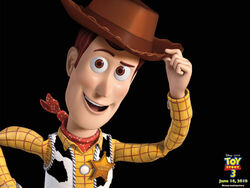 's TV show "Woody's Roundup".
Toy Story​
Edit
he first appears while Andy is playing with his toys. then he comes to life when Andy leaves his room. he tells the other toys that the coast is clear, and sets up a staff meeting. then Hamm breaks the staff meeting up, and Andy gets a buzz lightyear. buzz looks around the room and acts like a ranger. he gets jealous of buzz, and gets revenge on him. Andy takes him to pizza planet. he and buzz have a fight under Andy's mom's car, until the davis family drive away. he gets lost, and argues with buzz trying to tell him that she is a toy. he finds a pizza planet truck, and tells buzz he found a "spaceship". and he and buzz go to pizza planet. until Sid Philips finds them in a claw machine full of aliens. he makes an escape plan to save buzz from being blown up. he comes to life in front of Sid, and finds the moving van. he then finds RC, but the other toys think he is doing the same thing by pushing buzz out of the window. but he is helping buzz get to the moving van. the toys throw him off but buzz helps him get to the moving van. RC's batteries die, but woody has an idea. he lights up buzz's rocket and they fly to Andy's mom's car. then he and buzz celebrate christmas together.
​Toy Story 2
Edit
Woody returns in Toy Story 2. he was looking for his hat, because he is going to cowboy camp with andy. but slinky found his hat. andy accidentally rips woody's arm with buzz, then woody has a nightmare about going into a bin full of Toy Arms. woody finds wheezy on the blue shelf, until he finds a yard sale outside. woody went to rescue wheezy from a yard sale, until a greedy toy collector finds him and takes him to his penthouse. woody meets a horse named bullesye, a cowgirl named jessie and a prospector named "stinky pete".  bullsye and jessie turned a TV on, woody watches a show named woody's roundup. a classic 50's show. woody looks at the woody's roundup merchandise, until he heard about a toy museum in japan.  he tells the roundup gang he wants to go back to Andy. woody's arm falls off by his glass case, and Al calls for a cleaner. this night, woody has to get his arm back from Al's pocket, until prospector (off Screen) turns the TV on. woody blames jessie for Turnng on the tv. the next morning, the cleaner named Geri fixes woody. jessie tells woody to go after he is fixed, Then pete tells woody to not get mad at jessie. jessie tells Him about a girl named emily. woody decided to leave, but he has to stay with the roundup gang. woody, jessie, bullesye and stinky pete made a play of woody's rundup, and jessie tickles him. Utility belt buzz lightyear comes into the apartment with rex, hamm, mr potato head and slinky. andy's buzz stops utility belt buzz, and tells woody to come with him and the others. but woody has to stay. woody hears him on TV singing You've got a friend in me. Woody changes his mind to go with buzz, but prospector locked the air vent.  Al takes him to the Airport. Buzz runs to al's case, but prospector punches him. woody fights the prospector, until pete rips his arm with his Axe. buzz, hamm, mr potato head, rex, slinky dog and the aliens Stun stinky pete and save woody. bullesye is free from the green case, but jessie is in trouble. woody hops on bullsye with buzz. woody jumps on a conveyer belt, to get to a plane. He finds her in the green case, they run to a emergency exit, but woody slipped. jessie held on to woody. his arm ripped, and his hat blew off, but buzz caught it. woody releases his pullstring, and he and jessie swung beetween the tires and hopped on bullesye. woody went home, hen Andy found jessie, bullesye and the aliens as New toys. woody shows bo his sewed arm and watches wheezy sing you've got a friend in me.
Ad blocker interference detected!
Wikia is a free-to-use site that makes money from advertising. We have a modified experience for viewers using ad blockers

Wikia is not accessible if you've made further modifications. Remove the custom ad blocker rule(s) and the page will load as expected.